Logistics robots are robotic systems used to automate the movement of goods and materials around a warehouse or manufacturing facility. These transportation robots provide a cost-effective way for businesses to streamline operations, reduce labor costs and increase efficiency. As recently as four years ago, many of the applications for these machines were in the early pilot stage. Today, those pilot programs have achieved multiple-site, at-scale deployments. 
For warehousing logistics robots, the future has arrived.
These robots typically come with advanced safety features, such as obstacle detection, so they can be safely deployed without sacrificing worker safety. The main benefits of logistics robots include improved accuracy, reduced labor costs, and increased productivity through automation.
Gathered from a variety of sources across the warehousing landscape, here are some of the trends to look for in 2023.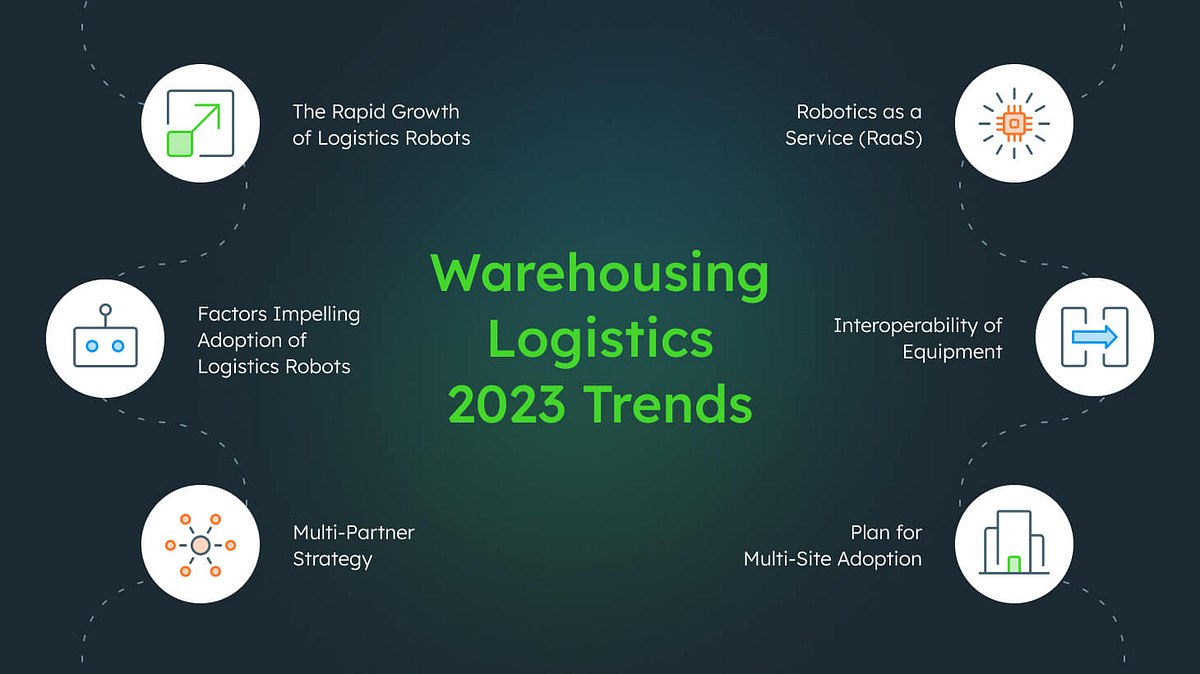 The rapid growth of logistics robots
According to SPER Market Research, the warehouse automation market is estimated to become 3.6 times larger than currently by 2032, reaching $66.56 Billion – a CAGR of 15.53%. The Boston Consulting Group study "Robotics Outlook 2030: How Intelligence and Mobility Will Shape the Future" projects even higher growth, setting logistics robot sales at $80 billion by 2030. 
Some notable, recent, officially announced investments into logistics robots include:
Walmart announced it is committed to bringing robotics to all 42 of its regional distribution centers 
Grocery store chain Kroger has opened five of 20 planned warehouses outfitted with automated systems for packing and shipping fresh groceries
Amazon accounts for 38% of total investment by US firms into warehouse automation. In September 2022, Amazon announced the acquisition of a Belgian robotics company.
Shopify spent $450 million to acquire automation provider 6 River Systems
The research firm McKinsey did a survey of 50 retailers and found that more than 80% of respondents plan to increase their automation investments over the next several years. 
80% of respondents plan to increase their automation investments over the next several years

McKinsey
Factors impelling adoption of logistics robots
The continuing rise of e-Commerce comes with customer expectations of ever-shorter delivery times. High employee turnover rates in the warehousing sector combined with increased labor intensiveness due to e-Commerce each-picking makes automation a necessity for survival. In addition, the growth in SKUs adds complexity to warehousing processes and is yet another factor driving the adoption of logistics robots.
Multi-partner strategy
The technology is moving so rapidly that the marketplace is specialized. Many start-ups have joined the fray with highly innovative and useful solutions for a specific segment of the market. Although it can be desirable to have only one vendor as an automation partner, compelling new technologies make it attractive to test and learn with multiple vendors.
Robotics as a Service (RaaS)
To reduce the risk of what is often a large investment in logistics robots, more and more vendors are offering as-a-service pricing. By substantially reducing the initial investment necessary, RaaS makes it easier to get started with automation. In addition, the lower risk associated with RaaS facilitates working with multiple vendors.
Interoperability of equipment
In mid-2021, the independent non-profit MassRobotics published the world's first open-source autonomous mobile robot interoperability standards, allowing AMRs from different vendors to work together and share data between them. 
Daniel Theobald, founder of MassRobotics and CIO and founder of Vecna Robotics, has been an outspoken advocate for interoperability in recent years. "This important technology lays the groundwork for future innovation and concrete value for customers worldwide," says Theobald.
This important technology lays the groundwork for future innovation and concrete value for customers worldwide

Daniel Theobald – MassRobotics
Plan for multi-site adoption
McKinsey's report, "Automation has reached its tipping point for omnichannel warehouses," points out that "traditionally, retailers might take a site-by-site view of their automation strategy." The report suggests, however, that the more innovative logistics managers are taking an end-to-end approach. These managers choose a pilot project that can be replicated in other sites or in other areas of the same site. In this way, the test-and-learn method produces maximum benefits for minimum effort. 
Conclusion
Logistics robots are the way of the future, able to provide a competitive advantage to those who embrace them. Companies now have access to a multi-partner approach to robotics adoption that includes Robotics as a Service (RaaS) offerings. Thanks to interoperability, it has never been easier to automate all aspects of your operations. Additionally, there are methods for more strategically adopting robotic systems across multiple locations. Ultimately, automation engineers can plan for greater return on investment and efficiency in operations when deploying these cutting-edge technologies. Do you want to be a leader in embracing logistics robots? Reach out to a Vecna Robotics representative today – let us help you with your automation needs and seize the opportunities of tomorrow!
If you're ready to get started with an initial assessment, contact us to set up an appointment with a Vecna Robotics automation expert.