Nearly every product that ends up on a shelf starts on a pallet. There are more pallets than ever before, fewer people to move them, and less time to get them where they need to go. With ongoing labor shortages, SKU proliferation, and increasingly drastic consumer demand shifts – there is a need for automation at every step of the way.
The good news: People don't have to move pallets. That's what AMRs (pallet-moving robots) are for.
Moving pallets: The retail workers you don't see
When people think of robots enabling retail operations, many recall the visible, last-mile performers – robots scanning inventory or even patrolling physical retail locations. A robot stocking aisle is one small example, but the bulk of the work happens behind closed doors to ensure products get to the shelves in the first place.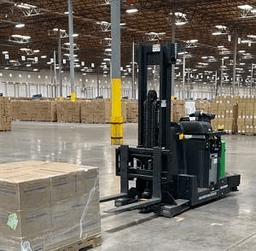 Autonomous mobile robots (AMRs) like tuggers, forklifts, and pallet jacks work behind the scenes to carry out crucial workflows in material handling facilities. This heavy lifting (up to 3000 lbs. of heavy lifting, in fact) enables warehouses, manufacturing, and distribution across the globe.
They take on and optimize the dull, dirty, and dangerous jobs – allowing human workers to move to high-value tasks. Vecna Robotics' AMRs use onboard intelligence to optimize operations and adapt in real-time, providing key flexibility and unlocking new levels of efficiency.
Robots-with-humans transform retail
Gone are the days of "hide the robots." Automation isn't being isolated to closed-door facilities, secluded, and protected behind locked metal gates and in production cells. In fact, progressive approaches to operations allow robots to take over non-value-added travel and transport goods, combining intelligence with human managers and coworkers.
Pallet-moving robots, along with picking, transporting, and many other types of AMRs, operate safely and efficiently alongside staff. But it's not just navigation technology that maps spaces and has built-in collision avoidance. With increasing acceptance and implementation of robots into traditional, manually focused environments, it's the best of both worlds. The human-with-robot approach is gaining momentum, and the data continues to support integration.
Data backs robot results
In an industry with infamously tight margins, new retail operational efficiency initiatives are constantly under the microscope. As product cycles speed up, retailers need to key into facility operations to increase efficiency and meet production or fulfillment goals. Every recognized gain can make a big difference. Intelligent robots can unlock new levels of data transparency and can provide key insights into your operations on a daily, monthly, and yearly basis.
E-commerce: a battle best fought with flexible solutions
While e-commerce isn't in the extreme covid-response state we saw in 2021, order demand and complexity continue to surpass the available capacity of most facilities. The "Amazon Effect" drives the e-commerce world, intensifying the urgency to supplement labor and introduce high-performance automation. Perhaps the most dramatic impact of DTC (direct-to-customer) logistics takes place upstream in times of sudden peak demand. Automation systems and solutions transform what is possible in warehousing.
Automation systems go above and beyond when it comes to handling seasonal demand spikes. Not only do robotics solutions boost throughput and efficiency, but the Robotics-as-a-Service model allows facilities to scale and swap robots as needs change over time. By using operating expenses to essentially have a full-service robot subscription, retail brands benefit from increased flexibility and adaptability.
2023: The year of the robot
It's important to note that this integration is not inserting tech for tech's sake. It's not for "innovative brand" bragging rights. Implementing broad-scale automation solutions with AMRs is about a business transformation that maximizes efficiencies, tracks products accurately, and draws more traffic to stores.
New survey data from the IDC shows that 35% of material handling operations are planning to implement automation in 2023. It's now clear that retail operations leaders must innovate like automotive manufacturers have done over the past three decades – on a much shorter timeline.
Pallet-moving robots are the key to building an agile retail supply chain. Whether it's to increase throughput, supplement labor, or improve data visibility, it's time to turn toward automation and bring operations into the future.
RETAIL RUNS ON PALLETS – NRF 2023 Live Recap!
See how Vecna Robotics solutions are transforming material handling operations at some of the top apparel and home improvement, home furnishing retailers. Watch our live recap from the NRF Big Show 2023.