Vecna AFL Autonomous Forklift
Give your productivity a serious lift
It lifts, it dashes, it loads a conveyor! Vecna AFL is the industry's most versatile self-driving counterbalanced automated forklift.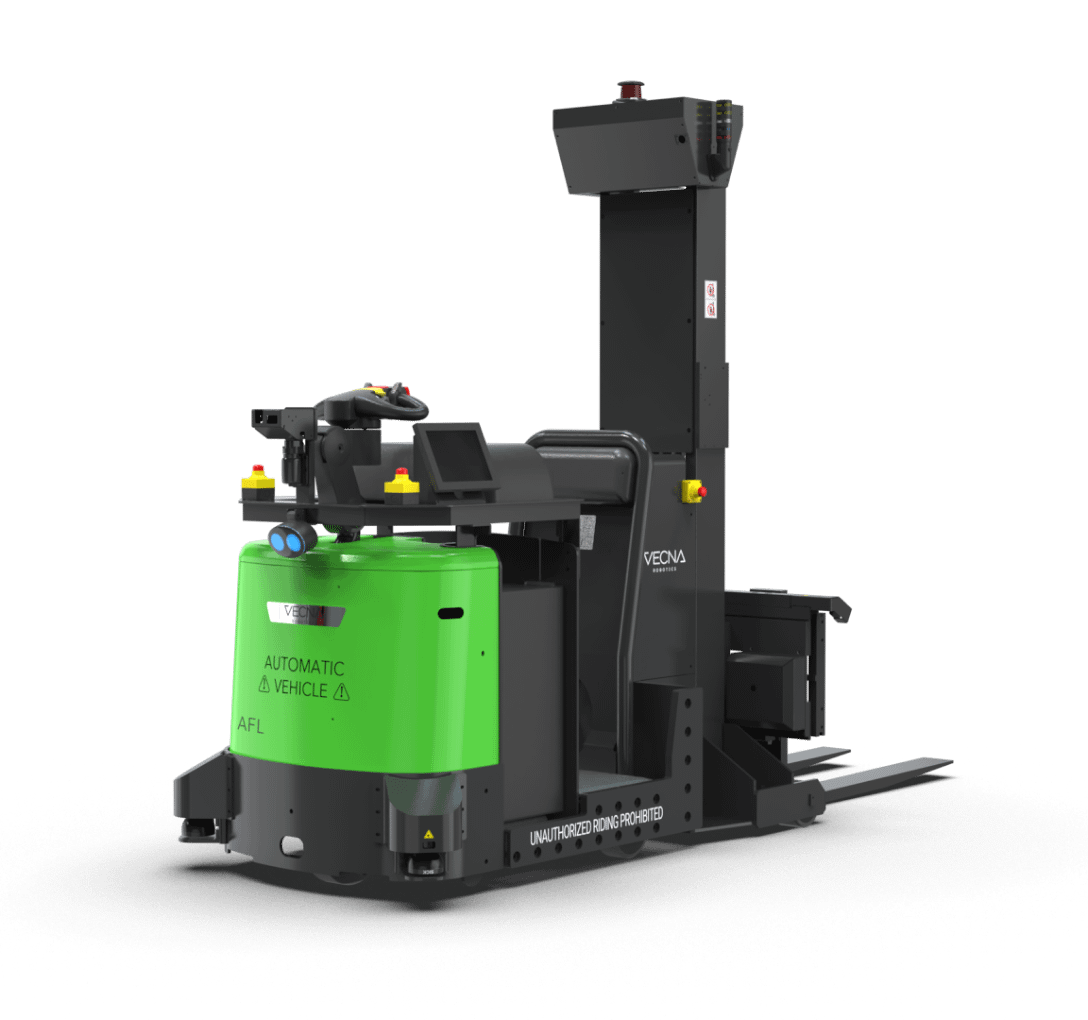 About Vecna AFL
A forklift for all seasons
Vecna AFL is a versatile driverless automated forklift that can move a wide range of payloads and pallet types. From ground-to-ground workflows to conveyer belt and riser lifts, Vecna AFL is our the all-around workhorse for your warehouse.
Download spec sheet
15'6 ft right angle stack
Features and Functionality
Up, up and away
Lift Higher, Transport More
Reaches up to 60″ height, with a payload of up to 3000 lbs
Versatile Pallet Handling
Handles a wide range of pallet payloads, from empty to full
Integrated Handoffs
Lifts to and from conveyors, wrappers, and more
Operate in Narrow Aisles
Navigates at top speed within 9′ aisles
Intuitive Interfaces
Assigns tasks using remote user interfaces
LPN Scanning
Scans pallet barcodes and send updates to your WMS
ANSI B56.5 Compliant
Keeps your employees, equipment and goods safe.
Opportunistic Charging
Runs 24/7 using manual opportunistic charging
Optimize your warehouse workflows
Picking and Putaway
Harmonize horizontal transport
Automate pick, putaway, or both. Vecna interleaves to and from dock movements to maximize your efficiency – clearing and filling staging lines up to 10 pallets deep and reducing labor by up to 33%.
Vecna's system is given a pickup mission to clear pallets from the receiving doc and dispatches an AMR.

The AMR autonomously picks the first pallet and plots the most efficient route to its P&D location.

The AMR drops the pallet at end-of-aisle staging and a manual operator completes final putaway into the rack location.

A manual operator picks an outbound pallet and drops at endcap staging for Vecna.

The system dispatches an AMR to transport the outbound pallet from end-of-aisle staging to the shipping dock.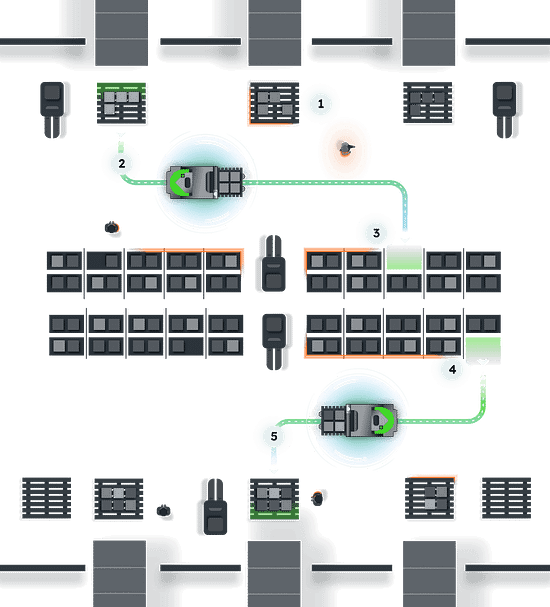 Conveyors and Risers
What goes up, comes down too
With a 3,000 lb. capacity and lift heights up to 60 inches, Vecna AFL automates your critical low-level workflows from ground-to-riser or conveyor-to-conveyor, such as inbound staging to AS/RS induction; delivering WIP materials to ergonomic workcell lift stands, and extracting finished goods from robotic palletizers and stretch wrappers for outbound staging.
The Vecna system receives a mission to deliver materials from one machine to another and dispatches an AMR.

Upon arrival, the AMR autonomously picks the payload from the outfeed conveyor and plots the best route to the next machine.

The AMR autonomously lifts and drops the materials onto the next machine's induction conveyor and proceeds to its next mission.
See me lift
Packaging and replenishment
Run your "last mile" in record time
Fully automate the last steps of your operation. Vecna's intelligent automation and integrations make managing and packaging mixed-case pallets a snap.
Operators finish building a mixed-case pallet and request a pickup from a designated staging area.

Vecna's system dispatches an AMR to pick the rainbow pallet and deliver to an available stretch wrapper.

Once wrapping is complete, an ARM will pick the pallet from the wrapper and deliver to outbound staging for shipping.
Cross docking and sortation
Flow freely
Tap into the power of route-free navigation, and keep your dock-to-dock transportation running like clockwork. Vecna's flexible navigation allows many robots to move many goods, to many locations safely and quickly.
Vecna's system is given a pickup mission to clear pallets from the receiving doc and dispatches an AMR.

The AMR autonomously picks the first pallet and plots the most efficient route to its P&D location, avoiding obstacles along the way.

The AMR drops the pallet to the appropriate outbound staging lane for final shipping.
Work in progress
Move materials quickly and safely
Autonomously move components from station to station while reducing materials handlers by over 50%. Vecna cuts traffic while improving safety and productivity with dynamic routing that optimizes routes and drop off locations based on real-time availability.
The Vecna system receives a pickup mission from an operator and dispatches an AMR.

The AMR picks up and scans the pallet, then travels the best route to drop off the pallet to the end-of-aisle or outbound staging.

The system updates, and the AMR process to the next mission.

Vecna Robotics offers a versatile platform that complements our deployments. The flexibility and simplicity of operation allows us to continuously tackle new use cases.
Mahesh Nikam
Shape Excellence Systems Manager
,
Shape Corp.

Vecna Robotics takes a flexible approach and has superior technology. Our work together represents a true partnership.
Ted Dengel
Managing Director
,
Operations Technology and Innovation

Working with Vecna Robotics has helped us increase productivity in our distribution centers and allowed us to move goods in and out with greater efficiency.
Eric Douglas
Executive Vice President of Engineering and Technology
,
Geodis
Trusted by industry leaders






and those in the know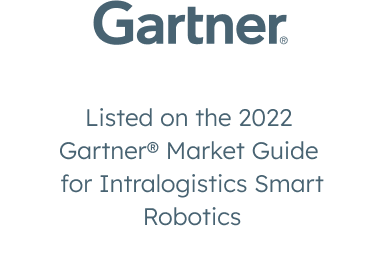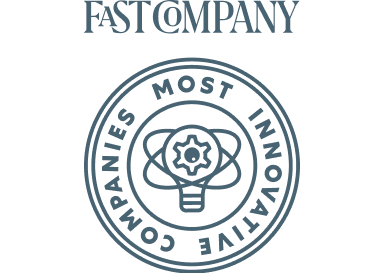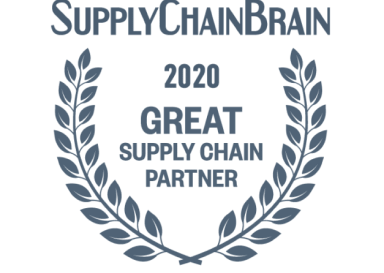 Let's go
Optimize your critical workflows right now
Have questions about what Vecna can do for you? Tell us about yourself and an automation expert will be in touch shortly.
Thank you for getting in touch
We aim to respond to all messages within 1-2 business days.
In the meantime you might be interested in some of these resources.
Our latest insights and news delivered right to your inbox.