Supply chain disruptions have proven to be the "new normal" impacting both warehouse and factory operations and have fundamentally changed how goods are moved worldwide. Since the COVID-19 pandemic started in 2020, warehouses, manufacturers, and consumers have experienced disruptions ranging from the tragic to the absurd. Who could forget the great toilet paper run of March 2020? Or the Ever Givens notorious Suez Canal misadventure in March 2021? No matter the origin of these disruptions, the consequences for businesses, individuals, and entire nations are always costly and occasionally spin out into more significant life-or-death crises.
The pain of supply chain disruptions has been acute and pervasive. Accenture has reported that 75% of companies have had negative or strongly negative impacts on their businesses, with 55% planning to downgrade their growth outlooks. The bad/worse news? These supply chain shocks aren't going away any time soon. As Gartner reports, "Supply chain disruption is no longer an "if," nor is it a "when" since it's both omnipresent and unpredictable at the same time." 
"Supply chain disruption is no longer an "if," nor is it a "when" since it's both omnipresent and unpredictable at the same time."

Gartner
Many companies have begun to make structural changes as this new reality sets in. Mckinsey notes that over the past 12 months, two-thirds of companies have implemented new supply chain risk management practices, with supply chains remaining at the top of the corporate agenda for the third year in a row. However, that same 2021 supply chain pulse survey revealed that despite the progress made, "there remained a significant gap between respondents' ambition and their action." In short, the industry has a long way to go when it comes to building supply chain resilience. 
Now for the good news: help is already here. Innovations in automation can help companies solve their immediate pain while building long-term stability. Even better, this new technology has never been more available (or affordable). This article will explore how automation can help manufacturers and warehouses respond to 5 of the biggest supply chain disruptions.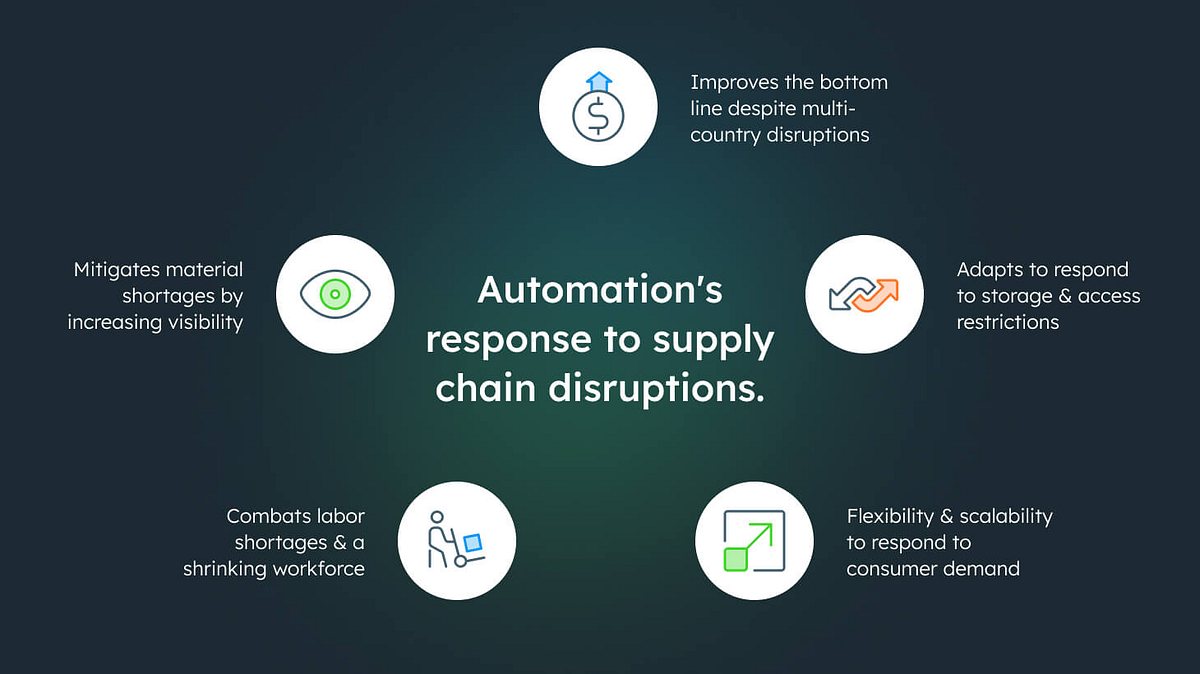 1. Automation improves the bottom line in the face of multi-country disruptions
Multi-country supply chain disruptions—where the flow of goods, materials, and services between multiple countries in a supply chain breaks down—are among the most destructive supply chain shocks due to their massive scale and unpredictability. Multi-country events like the Pandemic, or the war in Ukraine, have recently exposed the flaw of the decades-long push to globalize supply chains, leaving businesses scrambling to adjust their operations.
Flexible Automation can help material handling operations take some of the "ouch" out of multi-country disruptions by driving enhanced efficiency via consistent takt and cycle times despite rapidly changing circumstances. Automation can also help businesses looking to avoid future multi-country disruptions by enhancing reshoring or nearshoring strategies. Autonomous mobile robots (AMRs) such as co-bots drive higher throughput in the smaller plants typical to near/reshoring destinations that provide closer access to local markets.
2. Automation adapts to respond to storage and access restrictions
During the pandemic, many warehouses and manufacturers had to shut down parts of their operations due to outbreaks or rapidly reorganize their floors due to social distancing mandates. Whether from contamination, or natural disasters, these types of storage and access restrictions—which render parts of normal operations inaccessible—stymie productivity and strangle a company's throughput.
Having automation that can adapt to changing operations allows companies to switch gears quickly should a storage or access restriction disruption occur. Unlike traditional operations where equipment is purpose-built for specific tasks and processes, flexible automation adapts to fit new workflows, layout changes, and lines—eliminating ​​lengthy changeover times. Much of this rapid repurposing and reconfiguration is powered by over-the-air software updates to enable even greater agility.
3. Automation enables flexibility and scalability to respond to volatile consumer demand
Just what is up with today's moody consumers? One day everyone is climbing over each other for a bottle of hand sanitizer, and the next, they're playing tug-of-war over bicycles. Material handlers must meet the high demands and changing preferences of consumers, who have become accustomed to quick and easy access to products through direct-to-consumer (DTC) and e-commerce channels.
Material handlers can use flexible automation to rapidly ramp production up and down or produce a higher mix of products to overcome this volatile demand. Unlike fixed infrastructure, flexible automation systems allow for modular floor layouts, can quickly recalculate mobile robot paths, and are installed in a matter of days or weeks. In addition, Robotics as a Service options allow companies to get better ROI and scale up or down faster as robots are paid for on a subscription basis rather than as capital hardware.
4. Automation combats labor shortages and a shrinking workforce
A swirling mass of trends from "the great resignation" to shifting demographics and wage inflation have converged to create an unprecedented labor shortage crisis—leading to a record 490,000,000 shortfall in laborers for warehouses and transportation companies in July 2021. Because most operations are still heavily-reliant on labor-intensive technology, this deficit has heavily impeded the flow of materials leading to lower productivity and significant disruptions.
Eliminating tedious tasks with the help of automation technologies like AMRs and co-bots gives a smaller labor force a much-needed boost, increasing efficiency by up to 85% compared to just labor alone. And it's not just about productivity—a recent survey of executives found that automation can improve labor retention as well, with a staggering 85% believing that automating specific tasks will allow their employees to focus on more stimulating and enjoyable work and make the workplace a safer environment.
5. Automation mitigates raw material shortages and inflation by increasing visibility
Long-term disruptions in China have put a squeeze on the usual flow of raw materials and products that North American companies have become reliant on. As a result, supply chains are facing formidable challenges as companies struggle to stabilize their supply in the face of soaring prices and severe shortages of materials.
Automation can give companies a clearer view of their inventory levels, helping them avoid shortages. Automated systems such as robots can track every part and assembly down to the smallest component and process stage. This data enables operations to see what they can produce daily or even hourly. If a disruption occurs in the supply chain (e.g., a shortage of parts), the company can quickly redirect efforts towards producing parts with available supplies, minimizing downtime caused by waiting for the next supply delivery.
Though it's pretty unlikely, we'll see manufacturers and warehouses completely sever ties with global suppliers; automation can give material handlers access to backup strategies that bring them closer to their customers and unlock new productivity and flexibility benefits. In the long run, this will give many companies a competitive edge over those that adopt a "wait and see" approach to supply chain disruptions.
To learn more about how flexible automation helps companies adapt to disruptions, diversify their supplier base, use data to maintain consistent inventory levels and avoid downtime, retain their workforce, and improve quality, check out "Shock and Yaw: How Material Handling Robotics Can Drive Supply Chain Resiliency."
If you're ready to get started with an initial assessment, contact us to set up an appointment with a Vecna Robotics automation expert.